Map description
Accuratissima totius Asiae tabula in omnes partes divisa, de novo correcta ac in lucem edita per Fredericum de Witt
[Extremely accurate map of the entire Asia subdivided in all its parts newly, revised and published by Frederik de Wit]
By Frederik de Wit (1648-1712)
Published by De Wit, Amsterdam, ca. 1670.
Text in Latin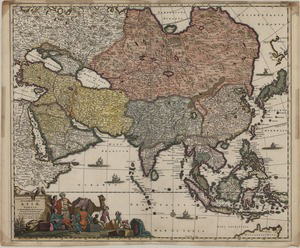 The author of this map, Frederik de Wit (1629/30-1706), was a prolific map publisher, engraver and seller whose work encompassed sea, world and town atlases. He found his business in 1648, acquired copperplates of town books by Blaeu and Janssonius in the 1670s' and in 1681 obtained a privilege form the State Generals of the Netherlands to publish his maps. He is one the protagonists of the last period of Dutch preeminence in mapmaking, well-known for his attractive engraving and coloring. His works include "Atlases" (c.a. 1670), "Atlas Minor" (1670), "Zee Atlas" (1675), "Atlas Belgium" (1666-7), "Atlas Major" (1690) and "Orbis Maritimus ofte Zee Atlas" (1675).
This map illustrates Asia subdivided in the regions of the Ottoman Empire, Commania (Crimea and the Caucasus), Arabia, Persia, Tartaria, the Moghul Empire India (including most of Indochina), the East Indies, China and Japan, all in different colors; adjacent areas of North Africa and Europe are included, without coloring. The region of China is accurately drawn on the basis of the description of the Jesuit missionaries. The Northern portion of Australia is shown, under the name of Hollandia Nova (New Holland). To the north of Japan are shown sketchily the land of Yedso (Hokkaido), Cape of Aniva (the southern tip of Sakhalin) and Staten Island (one of Kuril islands), according to the report of the Holland expedition under Maarten Gerritsz Vries in 1643 compiled a map which was published by J. Jansson in Amsterdam in 1650. Another map in our collection, drawn by Cantelli in 1682 (Capo di Aniwa, Isola de Stati https://lbezone.hkust.edu.hk/bib/b537420), shows this same area with quite different contours.
In the lower left corner is the decorative image of a caravan, with merchants discussing, laborers unloading goods, a couple of parrots, a strangely drawn monkey and a camel.
At the center bottom is a compass rose. Vessels are shown in the seas, Western ones in the Indian Ocean and Junks in the China Sea.
Compass Rose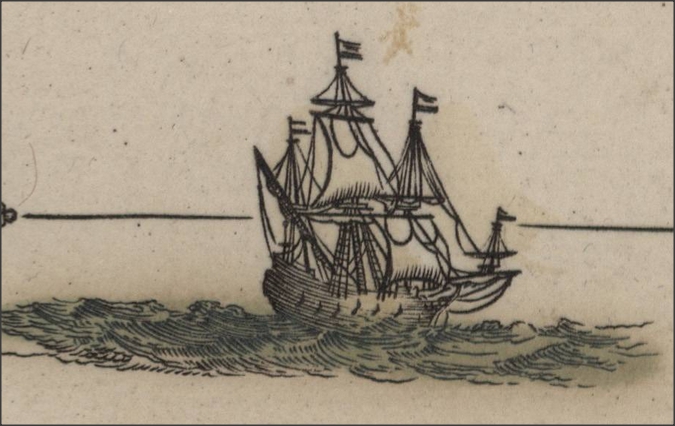 Junk

Junk
Sources
Moreland, Carl and David Bannister. Antique Maps: A Collector's Handbook. New York: Longman Group, Ltd., 1983.
Shirley, Rodney W. The Mapping of the World: Early Printed World Maps 1472-1700. Riverside, CT: Early World Press Ltd., 2001.
Josephine French; Valérie Scott; Mary Alice Lowenthal; Ronald Vere Tooley, Tooley's dictionary of mapmakers. Revised edition. Map Collector Publications in association with Richard Arkway, Inc., 1999-2004.
On Yedso/Hokkaido