Map description
Opulentissimum Sinarum imperium juxta recentissimam delineationem in suas provincias disterminatum, cura et sumtibus Matthæi Seutteri
[The extremely rich Empire of the Chinese subdivided into its provinces according to the most recent survey, edited and published by Matthaeus Seutter]
By Matthaeus, Seutter (1678- c. 1757)
Published by Seutter, Augsburg 1737.
Text in Latin
The author of this map, Matthaeus Seutter the elder (1678- c. 1757) was born and died in Augsburg, in Southern Germany. He first worked with the Nuremberg mapmaker Homann, and then went back to Augsburg to set up his rival map-publishing house around 1707. He became imperial geographer in 1731 and was succeeded in the printing business by four of his sons and especially by his son in law Tobias Lotter. Most of his maps are derivative, but his ability as an engraver made them attractive by the addition of highly decorative vignettes and cartouches, typical in general of German maps of the eighteenth century, technically dependent from the dominant French model, but adding their own complex baroque decorations.
Legend for Symbols
This map of China derives from the Blaeu-Martini model and is specifically based on Johannes Van Loon's decorative map of China first published in Jan Jansson's "Atlas Novus" in 1657 (present in our collection:
https://lbezone.hkust.edu.hk/bib/b535873
). Seutter updates it with the data from the Jesuit survey published by D'Anville in the same year (see
https://lbezone.hkust.edu.hk/bib/b649081
). This map also shows Korea and the southern part of Japan. It was published in Seutter's "Atlas Novus".
The cartouche in the upper right corner is legend for symbols showing the capital city, major and minor cities, major and minor towns, fortresses and military settlements. It also has symbols for gold, silver, steel and tin mining. The symbols show the level reached by cartographic standardization in the eighteenth century under the French school.
The cartouche at the bottom left shows French and German mile scales.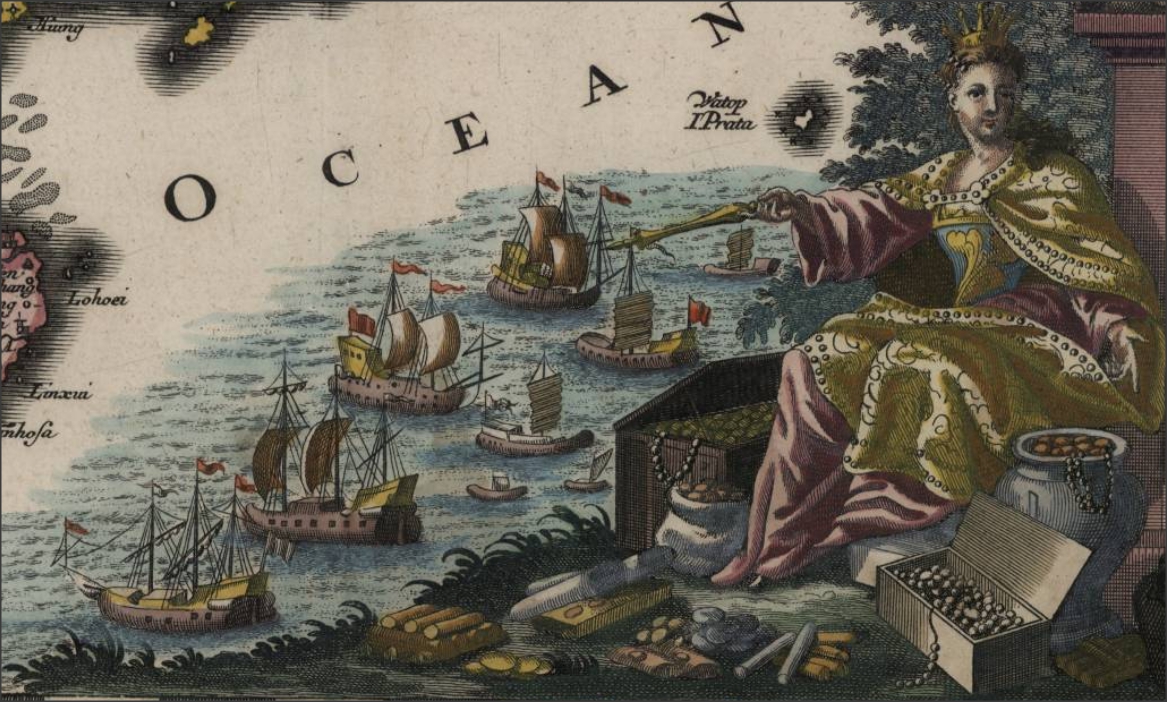 Goddess of Prosperity
The very elaborate decorative border at the lower right corner shows a cartouche with the title, author and location of the map (Augusta Vindelic[orum], mod. Augsburg) surrounded by allegorical and realistic figures.
On the left side, the Goddess of Prosperity is surrounded by precious stones and points her scepter towards a sea full of Western and Chinese ships, while the gods of commerce (Mercury) and of the sea (Neptune) stand on the right.
On top of the cartouche, the goddess of Wisdom (Minerva) seats leaning on thick books and on a globe, while a Chinese Mandarin and a Jesuit Missionary behind her have books in their hands.
Sources
Josephine French; Valérie Scott; Mary Alice Lowenthal; Ronald Vere Tooley, Tooley's dictionary of mapmakers. Revised edition. Map Collector Publications in association with Richard Arkway, Inc., 1999-2004, vol. 4 p. 150.
CITCO 2012 November description