Map description
Indiae orientalis insularumque adiacientium typus
[Map of the East Indies and of neighboring islands, 1570]
By Abraham Ortelius (1527 – 1598)
Published by Christopher Plantin, Antwerp, 1571/1573.
Text of the map in Latin, text on the back in Dutch.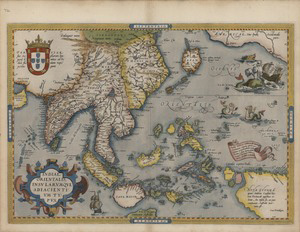 Abraham Ortels (1527 – 1598), who latinized his surname as Ortelius, was a Flemish artist and mapmaker. He is the author of the first comprehensive World Atlas, the Theatrum Orbis Terrarum (Theatre of the World), whose first edition was published in 1570 in Antwerp, at the time the richest harbor in Europe and a major center of map-printing. The Atlas consists of maps on the recto and explanatory text on the verso, it has been published in different languages and multiple editions, more than 40 just during Ortelius' life, with constant additions to the number of maps and their commentaries. The maps are either from earlier mapmakers, in which case the name of the author is given, or by Ortelius himself. The text is either in Latin or in vernacular; the Latin text contained scholarly sources and more in depth discussion, vernacular texts focused mainly on basic information given in down to earth manner. Ortelius himself wrote the Latin, Dutch and French texts. This map of the East Indies is accompanied by a Dutch commentary focusing on the richness of the Indies and on description of the recently discovered island of Japan.
Formosa and Lequio
The East Indies were coveted because of their spices, the main reason for Western Sailors to get there, and the map is therefore centered on the spice islands, the Moluccas, that the cartouche describes as "the famous five Moluccas islands next to Gilolo [=Halmahera], exporting all over the world a great abundance of fragrant spices". The emblem in the upper left corner is the one of the Avis Royal family of Portugal (1385-1580), which first promoted the exploration of the area.  The complex island geography is mostly incorrect, with Java and Borneo completely out of size. New Guinea is tentatively shown in the South, as are Japan and the Western American coast in the North. This is the first printed map to show Formosa (=Taiwan) and to identify it by that name (spelled
Fermosa
), even though it is shown far too small and out of place, as part of the Lequio (
Ryukyu
or
Liuqiu
琉球) islands. China is identified with the country of
Mangi
, by which Marco Polo meant South China. Equally from Marco Polo is the kingdom of
Beach
(Marco Polo's Southern kingdom of Locac), shown as the northern tip of an unknown southern continent.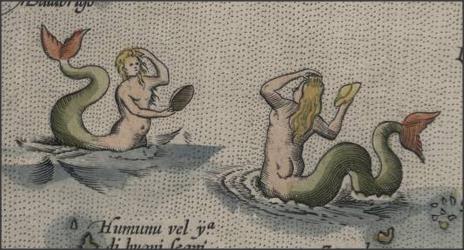 Mermaids
The sea monster close to the American coast is a whale, copied from the Map of the Northern Seas (Carta Marina) published in Rome in 1539, and below that the two mermaids with mirrors refer to old legends about an 'island of women' who conceived by beholding their own image.
Sources
Discussion in Van der Broecken, Marcel, Ortelius atlas maps: an illustrated guide, Houten : Hes & de Graaf, 2011, 496-498.
and in Van der Broecken's scholarly website on the Theatrum
http://www.orteliusmaps.com/book/ort166.html
From Van der Broecken:
"The mermaids who are beautifying themselves rather than heeding the whales' attack on nearby ships, are based on those occurring on Diego Gutiérrez map of America (1562), engraved by Cock."
See lower left corner of Gutiérrez's map here:
http://www.bl.uk/magnificentmaps/map3.html
Suárez, Thomas, Early mapping of Southeast Asia, Periplus, 1999, 164-9.
Koeman, Cornelis, The history of Abraham Ortelius and his Theatrum orbis terrarium, Lausanne: Sequoia, 1964.
Cordier, Henri, and Yule, Amy Frances, The Book of Sir Marco Polo the Venitian, London: Murray, vol. 2, 613 (accessed from the Digital Archive of Toyo Bunko Rare Books, Digital Silk Road Project, http://dsr.nii.ac.jp/cgi-bin/toyobunko/show_page.pl?lang=en&book=III-2-F-c-30/V-2&page=0677&keyword=boeach