Map description
Tartaria
[Tartary]
By Jodocus Hondius (1563-1612)
Published by Hondius, Amsterdam, 1609.
Text of the map in Latin, text on the back in French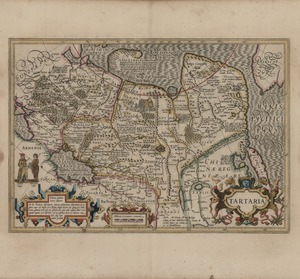 The De Hondt family of mapmakers (latinized as Hondius, of which Jodocus is the founder) came, as Ortelius and Mercator, from the Flanders. Just like Ortelius' Theatrum Orbis Terrarum went on being published long after his death, the Hondius family kept publishing and updating Mercator's Atlas. This map of Tartaria (the old name for Northern and Central Asia, inhabited by Turkic and Mongolian tribes generically designated as Tartars) comes from the 1606 edition of the Atlas. European discoveries concentrated mainly on the coasts of Asia, so that unavoidably a map like this, focused on the hinterland, had often to rely on old and contradictory sources. On one hand in the Artic ocean are shown newly discovered areas such as the Novaja Zemlja explored by the Dutch Barentsz in search of the Northeast passage to China in 1594-6; on the other, a completely hypothetical strait of Anian between Asia and America has the biblical cities of Gog and Magog located on its coasts.
For the western part of Central Asia, Hondius could rely on fairly recent travel narratives, such as the one by the English merchant Jenkinson, who traveled in 1558 from Moscow to Astrakhan and Bukhara under the auspices of the "Muscovy Company".
Nomadic Settlement
As for the eastern part, classical and medieval notions are preserved: the desert of Lop Nor is supposedly inhabited by ghosts seducing people with strange, demonic sounds, and the Classical Roman Encyclopedic author Pliny is given as authority for the existence, in the locality of Perositas, of creatures "with a mouth so small that they just feed of the smell of cooked meat".
Even a very important and supposedly well-known place, such as the old capital of the Yuan dynasty visited by Marco Polo, is given in three different locations under the names Cambaluc (in the north east, as capital of a country of Cathay that is incorrectly distinguished from China), Cambalich (on the Ob river) and Xuntien (Shuntian), alias Quinsay (which is actually the old name of Hangzhou), on the Bohai gulf.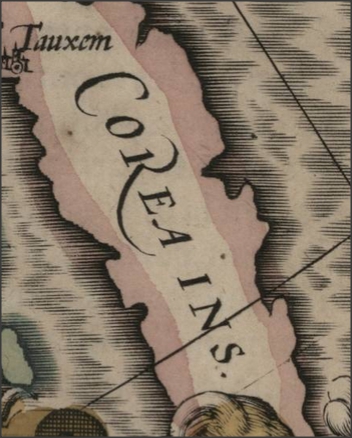 Korea
Korea, one of the parts of Asia least known to the Europeans, is shown as an island.
Decorative vignettes include a nomadic tribe, tents and livestock.
The long French text at the back of the map gives very heterogeneous information about the Islamic Faith, Central Asian nomadic life, the different areas of Tartary and the richness of China, with much less care about history and authoritative sources than Ortelius texts.
Sources
CITCO 2003: April,
Massimo Quaini, Michele Castelnovi, Visioni del Celeste Impero. L'immagine della Cina nella cartografia occidentale, Genova, Il Portolano, 2007, 103.
Li Narangoa and Robert Cribb, Historical Atlas of Northeast Asia, 1590-2010: Korea, Manchuria, Mongolia, 234.