Sha Fei Photographic Collection
Probably the most influential photographer of his generation, Sha Fei (1912-1950) captured some of the most iconic images of wartime China from the late 1930s to 1940s. His pictures reflect both his profound humanism and his belief in the power of photography to awaken the people. Following his tragic execution in 1950, Sha Fei was erased from history, only to be rediscovered in the 1980s, owing mainly to the efforts of his daughter Wang Yan, who generously donated to the HKUST Library Archives 63 museum-grade prints constituting the present collection.
Making copperplate for the start publication of "Jinchaji Pictorial Press"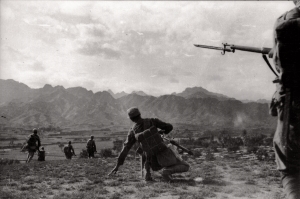 Fighting against the Japanese mopping-up operations